Contact Info : ernestobravo@live.com
(703) 973-4384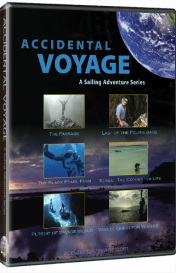 "August Ocean"
http://accidentalvoyage.com/


The music of Accidental Voyage is essential in telling the story and celebrating the imagery through out the entire series. All of these original compositions were created by Jeremy Koller. His involvement from the early stages of the editing process enabled Jeremy to gain insights and ideas while continually refining and developing his own interpretations and music.

For example, in the Accidental Voyage theme song, "August Ocean," Jeremy drew inspiration from the sailing footage that captures the rhythmic surging motion of a late summer lonely passage from Tonga's Vava'u Group to the Fijian Islands.

Using traditional (Chilean) musical instruments, accompanying musician Ernesto Bravo adds layers of primitive and tribal sounds in creating a unique union that combines the immediacy of sailing with the uncertainty of what awaits over the horizon.




---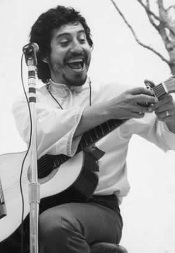 Victor Jara .... My story as inspiration

Between 1977 and 1978 I was checking my father's record
collection, when I discovered one record wrapped in newspaper.
I couldn't help opening it because was a only 8 years old my curiosity was tremendous. When I removed the wrapping I saw a drawing of a man's face with a cigarette in his mouth.
My mother got very upset when she saw what I was doing. I didn't understand why she got so mad at me. My father came home after long day of work that day. I know I was going to face some trouble because mom had been yelling at me earlier. My father finished his dinner and then he called me to sit next to him. He had the record on his hand. It was the same one I had removed the wrapping earlier. I told him I could get more newspaper. He smiled back at me "don't worry", he said. That it wasn't my fault. But in instead we are going to listen this record together. He had a Stereovox one that you can pull out the speakers from the top. Before he set up the record he closed the windows in that room. Me and my family were living in a building of four levels then. He wanted to make sure that no neighbors listened. All of a sudden music started coming out from that record ..beautiful sounds.. Charango, Quenas, Guitars.. music from the Andes. For several minutes, me and my father listened to this music in total silences. In my head had so many questions but I couldn't stop listening to those melodies. " Dad who is this man singing ? " I asked. He said he is the one with the cigarette in the picture. His name is Victor Jara. " Why do you have his record wrapped with newspaper? " I asked. He said because listening to this music is against the law. He told me that our country ( Chile ) doesn't have a president anymore now we have a dictatorship. ( General Pinochet ) That night I learned Victor Jara was murdered a few years earlier by the same people from that dictatorship. " Why ? " "I remember I asked." he is a musician I don't understand".. My Dad was silent for a while. ." Injustice is a big word that you will learn later on when you get older" he said to me... My dad and I continued to listen to that record that night……


Ernesto Bravo

---